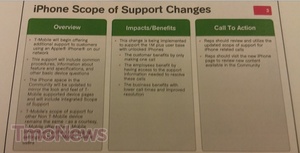 Starting on January 30th, T-Mobile will offer unlocked iPhone customers additional support.
There are over 1 million people using unlocked iPhones on T-Mobile's network, even though the phone has never been officially released for the carrier.
Leaked documents claim the new support includes "common procedures, information about feature and specifications and other basic device questions."
Furthermore, the T-Mobile Community iPhone site
will be updated
to "fit in with the rest of the T-Mobile supported device pages and "Integrated Scope of Support" for representatives."
T-Mobile remains the only major U.S. carrier to not have an official iPhone, but that could change in 2012 since the large AT&T acquisition failed to materialize, meaning T-Mobile will be around for the long haul.