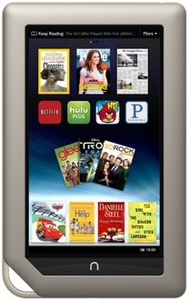 Although the Nook Tablet has been rootable out of the box, the process was notoriously user unfriendly.
This week, the devs over at XDA have found a much easier way to root the tablet, (which still has a locked bootloader) using a
microSD
card. Writing some files to the microSD and booting will bring you to ClockworkMod recovery, effectively opening up the device.
AC
has the instructions:
"All you have to do to get the custom recovery files to boot is copy the files provided to a card, insert it into the tablet and reboot. (You don't even have to format the card, unlike some Nook Color methods.) Once inside ClockworkMod Recovery, you can flash custom software or use another hack to get ADB file pushing from your computer. Flash the root ZIP file and you're done."
For now the root method works on Nook Tablets with
firmware
1.4.1 or older.
Get the files and more detailed instructions here (via XDA user "Indirect"):
http://forum.xda-developers.com/showpost.php?p=21895025&postcount=14