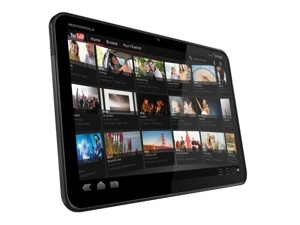 Motorola
shipped 1 million
Android
tablets in 2011.
According to the company's quarterly earnings, it appears that Motorola shipped 200,000 tablets during the Q4 pushing the total to about 1 million.

Motorola brought the first Honeycomb tablet to market in February 2011 with the launch of the XOOM. More recently, the company introduced the Droid XYBOARD 8.2 and XYBOARD 10.1, but each of those went on sale in January, likely meaning shipments will be included in the next quarter's earnings.

There are three models of the Xoom available, a Wi-Fi-only, a 3G-only, and a 3G/4G model, which was the last to be released.

Altogether, 10.5 million Android tablets were shipped in the last quarter of 2011, compared to 15.2 million iPads, making Motorola's share minuscule.