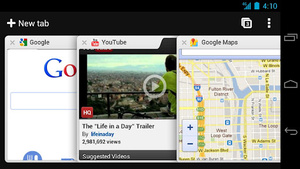 The much-anticipated
Chrome
browser for
Android
has finally arrived.
Google has launched the beta of their popular Chrome browser for Android smartphones and tablets. Currently, Android uses its own variant of Chrome as the native browser, and there are many alternatives, including Firefox, Dolphin
HD
and
Opera
.
Says Sundar Pichai, senior vice president of
Google Chrome
, on why it took 3 years to bring the browser over:
"We didn't want to just push out Chrome light. Our goal was to get all of Chrome onto Android."
If you are already a user of the desktop version of Chrome, the browser should be a great addition to your phone. After logging in to your Google account (and signing into Chrome on your desktop), all your bookmarks will be synced over, and all pages you left open at home will open on your mobile device. Search terms and history will sync over, as well.
There is one catch, you will need Ice Cream Sandwich to use
the app
.
Verge
has a hands-on of the software: