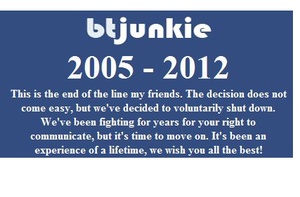 Following the take down of Megaupload, file-sharing site BTJunkie has decided to voluntarily shut down, as well.
The
torrent
search engine, which at its peak had 4 million active torrents, was one of the top 500 trafficked sites in the entire world.
Reads a note on BTJunkie's homepage:
"This is the end of the line my friends. The decision does not come easy, but we've decided to voluntarily shut down. We've been fighting for years for your right to communicate, but it's time to move on. It's been an experience of a lifetime, we wish you all the best!"
The site's founder also confirmed to numerous sites that the recent legal actions against Megaupload and The Pirate Bay (as well as its owners) was the reason for the shutdown.
Among the "collateral damage" of the global takedown of Megaupload, the casualties keep on coming. Within a day of the shut down, FileSonic and Fileserve, two major cyberlockers, shut down all ability to share files, whilst also deleting files and banning major uploaders.