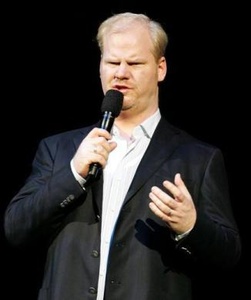 Following in the commercial successful footsteps of fellow comedian Louis C.K., Jim Gaffigan will release his standup special "Jim Gaffigan: Mr. Universe" exclusively as a digital download in April.
The special will be taped later this month, and will sell for $5 via Gaffigan's website. 20 percent of each purchase will be donated to charity, as well.
Late last year, Louis C.K. decided to skip a
DVD
distributor and edit and release his standup special "Louis C.K.: Live at the Beacon Theater" on his own website for $5, with no
DRM
or other restricitions. The "experiment" was so well received that C.K. made over $1 million profit in just two weeks. The comedian donated a substantial amount to charity and gave bonuses to everyone in his team as a show of appreciation.
Gaffigan credited C.K. for the idea, and added some humor, as well:
"If no one buys the special or if lots of people steal it then I suppose I will lose a lot of money and have egg on my face. But then again, I have four kids, so I am always losing money and usually have egg or some kind of food on my face so it might just feel normal."