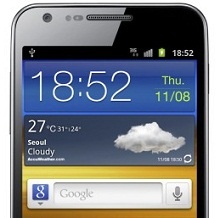 Samsung
has announced today that the
Galaxy S II
has reached a new sales milestone, 20 million units.
Since its global launch in April, 2011, the smartphone has become the most popular
Android
device.
Its predecessor, 2010's Galaxy S, saw 22 million units sold.
Overall, Samsung sold 95 million smartphones last year, just barely beating out
Apple
which sold 93 million iPhones for the year.
Samsung is expected to launch the Galaxy S III at an event in March. If spec leaks are accurate, the device will have a large 4.6-inch
720p
multi-touch display, run on Android 4.0 and a 1.8Ghz dual-core Exynos processor, have a 12MP rear camera and 2GB
RAM
. Each one of the features is practically unheard of in smartphones, currently, especially not together.
Furthermore, Samsung will somehow manage to squeeze all that power into a case that is just 7mm (0.28 inches) thick. Its predecessor is 0.33 inches thick, and the king of smartphones, the
iPhone 4S
is 0.37 inches.