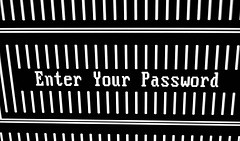 According to a new report, the top password used on business systems is the easily hacked "Password1."
Although the password satisfies the rules needed for most systems (one upper case, one lower case and a number), the password is still quite obviously not secure.
Security firm Trustwave cited the password in its new "2012 Global Security Report," a report which concludes on the firm's "findings from nearly 2 million network vulnerability scans and 300 recent security breach investigations," says
CNN
.
Overall, 5 percent of all passwords use a variation of the word "password" and over 1 percent use the word "welcome," making them the most used.
During their routine penetration tests on their client's systems, the firm was able to crack 200,000 of the 2.5 million they tried, a shockingly high number.
Recently, Verizon made similar conclusions in their own "2012 Data Breach Investigations Report."
The scariest part of the report was that attackers often remained in victim's networks for months at a time without being detected. Only 18 percent of victims discovered the attacks within a week.
Word of advice? Make your password longer than 8 characters and include numbers and symbols (if allowed).