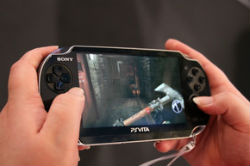 According to none other than
Nintendo
, the PS Vita is being outsold by pretty much everyone in Europe.
Nintendo president Satoru Iwata says the data is "based on sales information by market research companies in each European country" and includes consoles and handhelds.
The
Sony
PlayStation 3 came out on top, followed by the
3DS
and Xbox 360 fighting for second. The
Wii
came in fourth as sales reach almost complete saturation, while the aging
Sony PSP
beat out its upgrade, the Vita.
Sony is only selling 25,000 Vita per week, compared to 70,000 of the 6-year-old PS3.
Analyzing the data, Nintendo president Satoru Iwata had this to say:
"The UK market is virtually the only market in Europe where the Xbox 360 has a strong presence. In fact, it dominates the PlayStation 3, and it is in stark contrast to the other European markets. The top-selling titles for the Wii tell us that dance games continue to be popular this year. Although there are six titles for the Nintendo platforms, the two Mario titles for the Nintendo 3DS have the smallest presence in the world. We need to promptly improve this situation."
In the U.S., the situation is different, with the Xbox 360 far ahead, followed by the PS3. The 3DS is in third, followed by the Vita and then the Wii,
DS
and the dead
PSP
.
(All charts via
Eurogamer
)