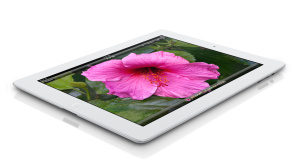 Apple
has confirmed the third-generation iPad will be headed to 30 new nations next week.
On May 11th, the tablet will reach Argentina, Aruba, Bolivia, Botswana, Brazil, Cambodia, Chile, Costa Rica, Curacao, Ecuador, French Guiana, Guadeloupe, Jamaica, Kenya, Madagascar, Malta, Martinique, Mauritius, Morocco, Peru, Taiwan, Tunisia, and Vietnam.
The next day, Bahrain, Egypt, Jordan, Kuwait, Qatar, Saudi Arabia, and the United Arab Emirates will get access to the popular device.
Apple's latest, which adds a more powerful processor and
Retina Display
, saw strong sales last quarter for the company. The
LTE
device saw 3 million sales in its first weekend and continues to see millions sold per month.