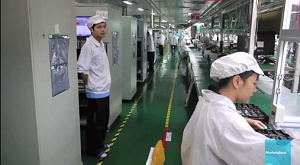 Apple
and Foxconn have announced today they will share the initial costs of improving Chinese factories where millions of
iOS
devices are built.
Foxconn CEO Terry Gou would not give a figure on the costs but with over 1 million workers the upgrades will certainly not come cheap. Adds the exec:

"We've discovered that this (improving factory conditions) is not a cost. It is a competitive strength. I believe Apple sees this as a competitive strength along with us, and so we will split the initial costs."

In February, wages were raised, on average, 21 percent for its workers and last month the two companies reached an agreement to hire new workers and cut overtime for existing workers.

Foxconn has become infamous for a string of suicides in 2010 and 2011 in which workers killed themselves to have their families collect on a higher payout than they would have made in years of working.