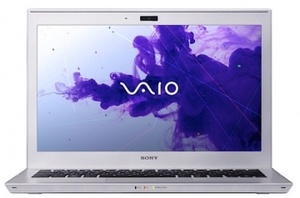 Sony
has unveiled their first ultrabooks this week, the VAIO T series and VAIO Series Z.
The first is the VAIO T13, an aluminum case with a 13.3-inch display (1366-by-768
resolution
), your choice of a new
Intel
Ivy Bridge ultra-low-
voltage
processor, an SSD and HDD, and ports like USB,
VGA
,
HDMI
,
SD
and Memory Stick.
Unfortunately, the T13 isn't the lightest or thinnest
ultrabook
on the market, weighing in at 3.5 pounds and .71-inches thick. It is, however, one of the cheapest around, starting at $769.99.
The Series Z has a 13.1-inch screen with a full
1080p
resolution, weighs in at 2.6 pounds and is thinner, at .66-inches thick.
Making it more powerful than the T is its quad-core processor and two SSD bays with a capacity of 512GB. Finally, you can attach a "sheet battery" to the bottom of the laptop, making it heavier but giving a quoted battery life of over 14 hours.
Of course, with all that power comes a higher price point. For $1600, you can get a Z with an Intel i5 processor, 8GB
RAM
, 128GB SSD and some extras like a pair of Sony noise-canceling earbuds. The top model, with an i7 and 512GB of SSD and a sheet battery will set you back $2999.99.