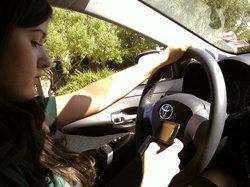 Over 50 percent of high school students have admitted to texting while driving.
Transportation Secretary Ray LaHood went as far to call it "a national epidemic."
The survey
of the students revealed 58 percent of high school seniors have texted or emailed while driving in the last month, while 43 percent of juniors admitted to the same thing.
"We need to teach kids, who are the most vulnerable drivers, that texting and driving don't mix,"
added LaHood.
Last year, distracted driving accounted for 16 percent of teen motor vehicle deaths.
Texting while driving is banned in 39 states, and outlawed for teens in another 5, but that does not seem to be the deterrent it should be.