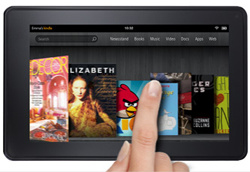 The State Department has signed a large $16.5 million deal to purchase Kindle Fire tablets and extra content from Amazon.
As part of the 5-year contract, the agency will also get access to an English-language teaching program.
2500 Kindle Fires are the initial order, and it is unclear what the final amount shipped will be.
The tablets will be used completely for educational purposes and will be placed in libraries, educational centers, reading rooms and other locations. Additionally, the devices will "also be used as a tool in the Department of State's English Access Microscholarship Program," reads the
GeekWire
report.
Finally, Amazon will provide content, customer support, international shipping, protective covers "and the appropriate country-specific power adapter" for each device.
Why Amazon got the deal was because the State Department required text-to-speech, a long-lasting battery and free Wi-Fi.