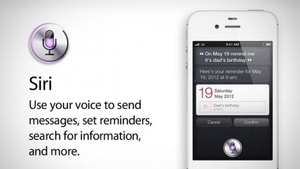 According to a new report by analyst firm Piper Jaffray, Apple's
Siri
virtual assistant works poorly, if at all.
This has been the general consensus amongst
iPhone 4S
users for some time, but the report is the first to say so much in a note to potential investors.
After performing 1600 common searches, the virtual assistant only accurately resolved the request 62 percent of the time when in a noisy environment and 68 percent in a quieter setting, like being at home.
The report gave the tech a "D" (on an A-F scale) for accuracy.
Says analyst Gene Munster:
"You're playing the lottery when you're using Siri. They have a plan to be more competitive, but it's going to take a couple of years."
In terms of "comprehension," Siri accurately deciphered what the user was saying 83 percent of the time in loud environments and then 89 percent of the time in quieter settings. Jaffray gave the comprehension a rating of 'B.'