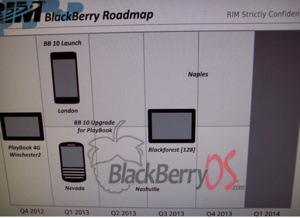 According to a leaked roadmap, RIM has 5 devices planned for 2013.
Each of the new devices will run on RIM's BlackBerry 10 operating system, which was set for release late last year but instead has been delayed until 2013.
The company's fortunes and hope lie in the arms of BB10, which is expected to bring RIM to at least on par with Windows Phone in terms of features. It is not expected to be able to touch
iOS
or
Android
in capabilities.
For the Q1, two BB10 smartphones are on the roadmap, "London" and "Nevada," the first of which will be touchscreen while the latter has a full keyboard.
RIM's successor to the failed Playbook tablet, codename "Blackforest," will hit in the Q3.
The last two phone
are mystery devices
codenamed "Naples" and "Nashville."