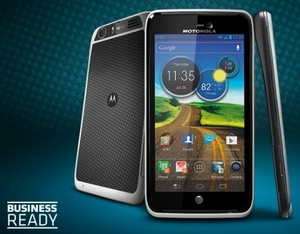 Motorola
Mobility has unveiled their first smartphone since being purchased by Google.
The
Atrix
HD
and its specs were accidentally posted by Motorola on their site before being taken down.
In regards to specs, the device has a 4.5-inch display with
720p
resolution
,
Android
4.0.4, a dual-core processor at 1.5GHz, 8GB internal storage, 1GB
RAM
, dual cameras 8MP/1.3MP.
AT&T will be the carrier selling the device, as expected as a sequel to the Atrix 2 launched last year.
On the design side, the Atrix HD has a very slim 0.33-inch profile, a Kevlar-coated backplate and removes physical buttons to instead use software.
The Atrix HD will use a light version of Motorola's own UI, as well.