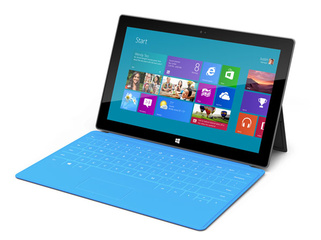 Microsoft
has finally confirmed its
OEM
partnets for Windows RT tablets.
For the time being,
Samsung
,
Dell
,
Asus
and
Lenovo
will be partners for Windows RT.
However, only Microsoft and Asus have officially announced their Windows RT tablets, with Microsoft offering up the Surface RT and Asus unveiling the Asus Tablet 600.
Somewhat surprisingly,
HP
and
Acer
are missing from the list, as both are long time Microsoft partners.
HTC
is also missing, but that is much less surprsing as Microsoft is said to have banished them from creating Windows 8 and RT tablets.
Microsoft also revealed some data on the tablets (via
Wired
):
"Windows RT batteries are currently performing with the RTM (release to manufacturer) code. With HD video playback, the devices have between eight and 13 hours of run time, and in connected standby they last for between 320 and 409 hours -- up to around 17 days.

Microsoft also outlines the typical measurements of the upcoming lineup of Windows RT devices. Weights vary between 520g to 1200g, or around 1.14 to 2.65 pounds, and devices are between 0.33 to 0.61 inch thick. For comparison, the new iPad measures at 0.37 inch and weights 1.44 pounds, while the MacBook Air is 0.68 inch at its thickest and weighs 2.38 pounds. That puts the Windows RT devices at comparable sizes to what is currently available on the market."