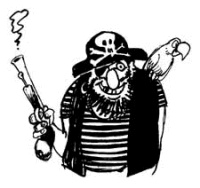 The fourth member of the once popular IMAGiNE piracy release group has plead guilty to copyright infringement and now faces jail time.
Jeramiah Perkins of Portsmouth faces up to 5 years in prison and a $250,000 fine, just like his co-conspirators.
Last September, the
P2P
top group stopped distributing new
CAM
and
TS
releases, and the P2P world began speculating that maybe they had been caught. This proved true as rumor has it a rival P2P group sold them out to the
MPAA
which then turned to the authorities.
The group had released hundreds of films, many of which were recorded in movie theaters by members of the group.
As of today, Jeramiah Perkins, 39, of Portsmouth, Va., Gregory Cherwonik, 53, of New
York
, Willie Lambert, 57, of Pennsylvania, and Sean Lovelady, 27, of California have all plead guilty to at least a count of conspiracy to commit criminal copyright infringement.
All the defendants are out on bail until sentencing in early 2013.