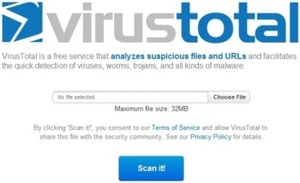 Google has purchased the browser-based URL scanner VirusTotal for an undisclosed amount.
How VirusTotal works is simple; head over to the site and either select a file from your computer or paste a URL. The service will then tell you whether it is infected or not.

Currently, the company has a desktop app and browser extensions for Chrome, Firefox and IE.

The company says it will continue to operate independently from Google whilst keeping all existing partnerships. Google can help "ensure that our tools are always ready, right when you need them," added the company.

It is unclear what Google intends to do with the service or any intellectual rights it may have acquired.