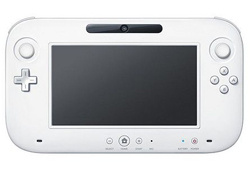 Despite pricing the console at $338 in Japan,
Nintendo
has priced the upcoming console cheaper for U.S. consumers.
Set for release on November 18th, the base model will cost $300 while the deluxe edition will sell for $350.
The base model will include the
Wii
U console with 8GB memory and the Wii U GamePad in all white. The deluxe edition comes with 32GB and a GamePad charging cradle. Additionally, it will come bundled with the game NintendoLand.
President Reggie Fils-Aime says neither version will come with regular Wii U controllers since the console is backwards compatible with all existing Wii controllers.
There was no word on how much additional GamePad controllers will cost, but in Japan, an additional touchscreen remote will cost you 13,000 yen ($167). That being said, we expect controllers in the U.S. to cost around $150.