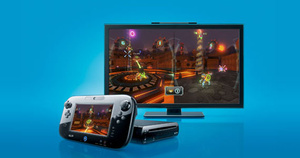 Last week,
Nintendo
finally revealed the price of their upcoming
Wii
U console, with the base model selling for $299 and a Deluxe model selling for $349.
The console goes on sale in the U.S. on November 18th.

Despite mixed thoughts on the console, its price and its specs, demand does not seem to be suffering. GameStop, Best Buy and other large retailers have all sold out of their pre-order stock of the Deluxe Set, which comes with more internal storage and a charging cradle.

The less popular base model is still available from a few retailers, however, so fans shouldn't have too big of an issue getting a console if they really want it.

Besides Best Buy and GameStop; Toys R Us, Kmart, Target and Sears are all sold out of pre-order Deluxe stock.