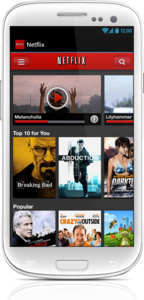 Netflix has announced today a "new experience" for
Android
users.
Says the
streaming
company:
Compared to the previous version, the new Netflix experience on Android phones is much more immersive. You will see many more titles and galleries than we have ever shown before on a smartphone. It is much closer to the Netflix experience on tablets, which got a major upgrade late last year.

At the top of the new browse screen on Android phones is a row that lets you continue watching shows or movies that you previously started watching right where you left off, a very handy feature. The Instant Queue, available in some regions, is presented on the Home screen just below your Top 10 list. Lower down in the new experience are several personalized rows filled with movie and TV show recommendations.

Tapping the browse menu gives you access to an extensive list of genre galleries that show even more titles organized into categories. Parents--like me--will really appreciate the children and family gallery with many titles organized by age.

A simple tap on any title presents all of the information for that title and a double-tap on any title starts instant playback. Also, search is available everywhere in the application, so you can always find what you are looking for.
The app is available for Android phone with Android 2.3 or higher. So far, there have been some reports of "fuzziness" on certain devices although Netflix says it is working on fixing all bugs.