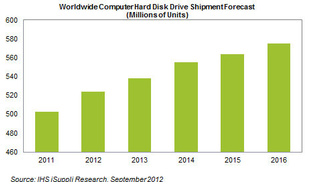 Over a year after massive floods in Thailand disrupted a significant portion of the world's disk drive production, shipment levels have recovered to pre-flood levels.
According to IHS iSuppli, demand from the enterprise market has helped the industry recover, with shipment levels expected to break early 2011 levels, soon.
In total, shipments are expected to reach 524 million units this year, up
4.3
percent from last year. What will not be the same as last year, however, is prices, which are still artificially high as hard drive makers make up for years of vicious price wars.
Prices are still, on average, 28 percent higher than they were before the flood.
Another reason for the production boost is the upcoming Windows 8 operating system, Microsoft's first since 2009's Windows 7. Windows 8 will be the most used OS for ultrabooks, many of which use hybrid drives that include SSD for boot up and HDD for storage.