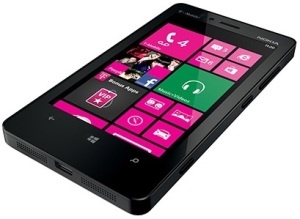 T-Mobile USA has announced its own exclusive Windows Phone 8 smartphone.
The
Nokia
810, which will be a mid-range device, will be similar to the AT&T exclusive
Lumia 820
announced last month alongside the flagship
Lumia 920
.
810 devices will feature a 4.3-inch, 800 x 480
resolution
display, dual cameras 8MP/1.2MP and an unknown dual-core processor.
Unfortunately, the carrier hasn't announced the internal storage or whether there will be a
microSD
slot. Just like the 820, wireless charging will not be bundled but available separately as an accessory.
Additionally, the phone is missing the PureView camera tech but will come with all other built-in feature apps like CityLens and Group Shot.