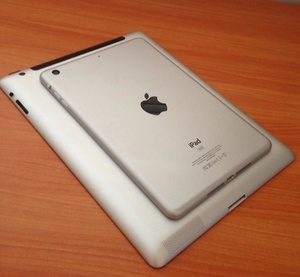 Reuters has confirmed that
Apple
will have a press event on October 23rd to unveil the iPad Mini.
The event will be three days before the major
Microsoft
event where the company will launch the Surface tablet, the first Windows RT device.
Says one analyst:
"We actually had the opportunity to play with a pilot iPad Mini used by one of the vendors. This 7.85-inch iPad Mini fit our hands like a glove and we were easily able to tuck the device in our sport coat, offering consumers a more mobile iPad experience for certain use cases."
Original story:
he device will feature a 7.85-inch display, making it a direct rival to the Amazon Kindle Fire HD and the Google Nexus 7. There have been plenty of rumors about the device, mainly about what features it is missing compared to its larger brother.



Supposedly, the tablet will lose Retina Display and cellular data connectivity, and will not add the A6 processor seen in the iPhone 5. However, the tablet will also allegedly lose some of its hefty price, with the $299 figure being thrown around the most. At $299, the device will be more expensive than its rivals, but $200 cheaper than the third-generation iPad and $100 cheaper than the aging iPad 2.

Furthermore, the new iPad will have the new Lightning connector.