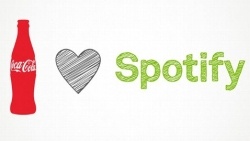 Spotify
has completed their most recent funding round.
The new round of financing will bring the company $100 million and give it a value of $3 billion.
Of the $100 million, $50 million is coming from Goldman Sachs, Fidelity is investing 15 percent and Coca-Cola accounted for 10 percent. The remaining 25 percent
will come from existing investors
.
Coca-Cola has been a longtime ad partner with Spotify, and was also in a separate partnership to help the
streaming
service reach new global markets.
Spotify has now reached 17 nations, including Ireland just this week. The company has 15 million users, with 4 million paying for premium subscriptions. The company is still expected to post a loss this year, although revenue is likely to grow over 90 percent.