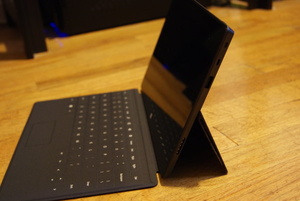 A Los Angeles man has sued
Microsoft
this week, claiming the new Surface tablet doesn't have all the internal storage it is supposed to have.
The irate customer, Andrew Sokolowski, does have a point.
For a 32GB tablet, there is only 17GB of free space, since Windows RT and pre-loaded apps take up the rest. For a 64GB model, there is just 46GB of free space at initial boot.
Microsoft has posted the free-space capacity on its Surface website, and has also acknowledged the capacity to major media outlets.
Regardless, Sokolowski filed the suit, and is seeking class-action status:
"Mr. Sokolowski's lawsuit is about protecting consumers as we head into the holiday shopping season,"
Rhett Francisco, an attorney representing Sokolowski, added.
"Microsoft is misrepresenting the storage capacity and capabilities of the Surface tablet, and consumers should know about it."
Microsoft was
quick to respond
:
"Customers understand the operating system and pre-installed applications reside on the device's internal storage thereby reducing the total free space. Surface with Windows RT customers benefit from the ability to attach additional storage via the integrated microSD slot or full-size USB port."