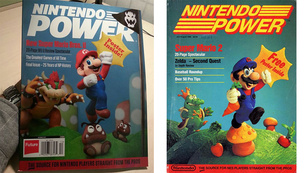 'Nintendo Power' has published its last issue this month, #285 dating back to 1988.
The issue is 96 pages and features a modern remake of the company's first-ever issue, which including the now iconic clay sculpture of Mario.
Created by artist Leslie Levings, the magazine asked the artist to pay homage to the original cover. Although she never owned an
NES
or a sub to
Nintendo
Power, she often visited friends' houses to be able to play.
Overall
, the cover took the magazine and the sculptor six months to get right, with many sketches sent back and forth. The cover features Mario jumping on a goomba with Bowser menacing in the background, similar to the original but, well, "modern."
The mag is available on newsstands, now.