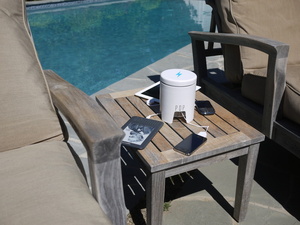 The Kickstarter-backed 'POP' device charger has been re-instated, after
Apple
lightened up on their Lightning adapter guidelines.
Last week, the company had to kill the project and return the funds to their 1000 backers after Apple told them they could not use the new 30-pin Lightning interface used for charging new iPhones and iPads. Additionally, the charger uses micro-USB, making it ideal for consumers who have both
Android
and
iOS
devices, or other phones.
Project founder Jamie Siminoff
wrote this
to backers:
As you know on Thursday we sent you an update that because of Apple's rules around Lightning we would be canceling POP. The story got A LOT of news and reactions, way more than we could have ever imagined. In fact it became such big news that 24 hours after we posted Apple changed their guidelines for Lightning.



It was an incredible turn of events for us. We never could have imagined that we would be able to change Apple's rules.

Based on Apple's change we can make POP the way we had promised and the project is back on. We will not be processing refunds and are going full speed ahead to produce and deliver the product to you ASAP.
The POP has a large battery and multiple ports with cables allowing for several objects to be charged from one simple device.
Check the project here:
Kickstarter