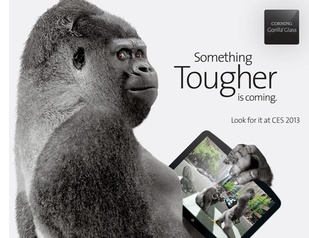 Corning has announced it will reveal its updated Gorilla Glass 3 tech at the upcoming
CES
event.
The company says the Glass has been improved significantly, using a new proprietary feature called Native Damage Resistance (NDR). NDR "reduces the propagation of flaws" as well as the appearance of scratches. Additionally, the glass does a better job of maintaining retained strength of the glass.
Because of NDR, Corning claims 300 percent improvement in scratch resistance over its predecessor, Gorilla Glass 2, as well as a 40 percent reduction in the number of visible scratches.
"This year at CES, Corning will demonstrate its industry leadership in specialty glass and fiber optic technologies with the introduction of two products designed to enhance and extend the capabilities of consumers' favorite devices,"
said
Wendell P. Weeks, chairman, chief executive officer, and president.
"These new innovations build on the increasingly important and continually evolving role of highly engineered glass technologies in delivering improved product performance and functionality through touch capabilities, protective cover glass, and device connectivity."
Corning will show off the glass on January 7th.