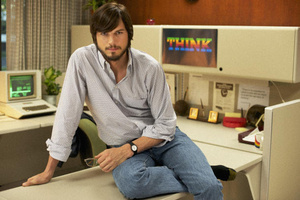 'jOBS,' the biopic starring Ashton Kutcher as a young Steve Jobs,
will reach theaters in April
.
Open Road Films and Five Star Feature Films released a statement today boasting they had reached a distribution deal for the movie.
The movie covers the years 1971-2000, right before the release of the original iPod and the beginning of
Apple
as the giant it is today. The film will show off Jobs' founding of the company, his ouster, the founding of NeXT and Pixar, and his return to the company after Apple purchased NeXT in 1996 for $429 million.
NeXT's software highly influenced Mac OS X and
iOS
.
'jOBS' will premiere this month at Sundance.