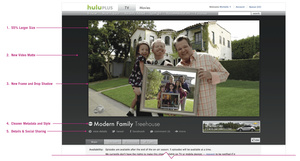 Hulu has announced that its longtime CEO and CTO will be leaving the company in the next couple of months.
CEO Jason Kilar and CTO Rich Tom will leave during the first quarter, as expected since last August when an internal memo was leaked revealing the company's plans for "transitioning to a new CEO."
Says Kilar
in the email
:
"I've been so fortunate to play a role in this amazing, ongoing journey. My decision to depart has been one of the toughest I've ever made. Though the words will fall short of the intended mark, please know how much this team means to me and how very thankful I am to be able to innovate and build alongside you each day."
Hulu was announced in April 2007, and Kilar was named CEO in June.
In 2012, Hulu brought in $700 million in revenue, a 65 percent increase from 2011. The service has 3 million paying subscribers and over 60,000
TV
episodes, 2,300 TV series, and 50,000 hours of video.