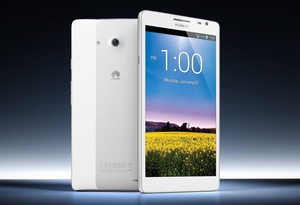 Unofficially revealed last month, Huawei has officially
unveiled
their 6.1-inch
720p
beast, the Ascend Mate.
The device has the largest screen yet of any smartphone, and the company claims it takes up 73 percent of the front of the phone.
Huawei added "
Magic
Touch" to the screen, as well, which will allow users to type and utilize their phone with gloves on. Powering the massive screen is a 4050 mAh battery and a Hi-Silicon 1.5 GHz quad-core processor.
Android
4.1 is the operating system, with an expected update to 4.2 in the future.
There are dual cameras, including a standard 8MP rear camera. More importantly, the company says the phone can last two days on a charge thanks to power management tech and its giant size.
The Ascend Mate will be released in March with no word on price.