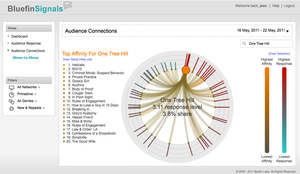 According to
sources
, Twitter has acquired social
TV
analytics company Bluefin Labs.
The price is not known but the acquisition is said to be the largest in the microblogging company's history.
In 2011, the company purchased
TweetDeck
for $40 million, so the assumed priced is above $50 million.
Bluefin has raised $20.5 million from investors including Time Warner Investments, SoftBank Capital, Acadia Woods Partners, Bedrocket Media's Brian Bedol, Jim Pallotta, Redpoint Ventures, Dan Gilbert, Lerer Ventures, Kepha Partners and the National Science Foundation so any buyout will bring a healthy return to each.
Twitter has been quickly moving into the TV space, signing a multi-year deal with Nielsen to produce social TV ratings and hiring a new Head of TV.