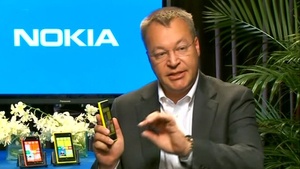 Nokia
CEO Stephen Elop would not officially confirm it, but the exec made more statements suggesting that the phone maker will be building a Windows-based tablet in the future.
"It is the case that in the months and years ahead, you will see us broaden out the portfolio, which means pushing to lower and lower price points, in some cases smaller form factors and so forth,"
said Elop.
"We haven't announced tablets at this point, but it is something we are clearly looking at very closely. We are studying very closely the market right now as Microsoft has introduced the Surface tablet, so we are trying to learn from that and understand what the right way to participate would be and at what point in time."
The CEO noted that there are merits to both popular form factors, the 7/8-inch tablet and the original 10-inch models made popular by the iPad.
"We would consider any option [Android or Windows]...It is important to note that the opportunity for companionship is something that any user is looking for. So, when you think about the Lumia 920, running on Windows phone, having a Windows tablet or PC or Xbox is something that will give us the opportunity to have a pretty integrated experience. Our first focus on what we look at is clearly in the Microsoft side,"
added
Elop.
"But we have made no decision or announced nothing."
Nokia would do better to create a Windows tablet as the
Android
market has become increasingly crowded. At this point, as well,
Samsung
, Google and Amazon have made it a three-horse race.