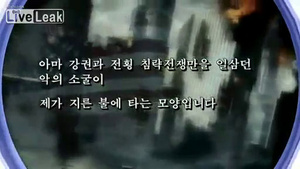 North Korea uploads truly bizarre video.
The video shows a man as he sleeps, dreaming about blasting off into space, and seemingly circling the Earth in what looks like a really cheap model of a space shuttle. All the while,
"We are the World"
is the tune that is playing along.
Later in the video, around the 2:15 mark, you see a burning city draped in an American flag. The burning city
appears to be New York
, and the footage seems to have been lifted right from Call of Duty: Modern Warfare 3.
"Somewhere in the United States, black clouds of smoke are billowing,"
the caption reads, according to the description on
LiveLeak
. "It seems that the nest of wickedness is ablaze with the fire started by itself."
Given that a North Koran nuclear test is apparently imminent (in response to UN imposed sanctions), you would think they could at least make a better video, right?