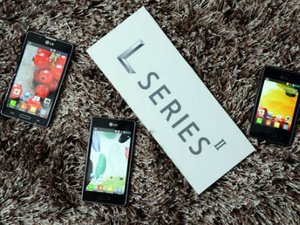 LG
has unveiled three new smartphones today, part of their L Series II lineup.
The Optimus L7 II, Optimus L5 II and Optimus L3 II will build upon the company's original L Series, as they
"embody the beauty of the first L Series but with a more refined touch."
Each will include new design elements, dubbed Seamless Layout, Laser Cut Contour, Radiant Rear Design and Smart LED Lighting.
Featuring a 4.3-inch IPS
WVGA
display, the L7 II is the most high-end of the group. The device has a dual-core 1 GHz Qualcomm Snapdragon processor (MSM8225), runs on 768MB
RAM
, has 4GB internal storage, dual cameras 3MP/8MP and a 2,460 mAh battery. The phone runs on
Android
4.1 and is available as a dual-SIM version.
The L5 II has a 4-inch WVGA display and a 1,700 mAh battery, but other details are unknown. The L3 II has a small 3.2-inch
QVGA
IPS display and 1,540 mAh battery.
LG will reveal the rest of the specs at the
Mobile World Congress
event later this month.
"LG has a history of pushing the envelope when it comes to style; Optimus L Series II builds on this heritage of design innovation. By evolving the sophisticated style and premium features of the original Optimus L Series, its sequel is expected to continue the popularity of the L Series around the world,"
added
Dr. Jong-seok Park, president and CEO of LG Electronics.