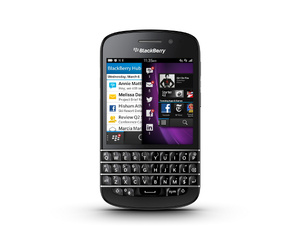 Sprint has announced today that it will be the only major U.S. carrier to not offer BlackBerry's flagship Z10 model.
Instead, the carrier will offer the QWERTY keyboard-based Q10.
"We aren't saying there's anything different about our customers,"
says
Mark Elliott, s Sprint spokesperson.
"We think our customers will be happy with the qwerty keyboard and touch screen on the Q10."
T-Mobile, Verizon and AT&T have all announced they will offer the touchscreen Z10, and BlackBerry itself says they expect the Z10 to outsell the Q10 by a 3-to-1 margin.
So far, the Z10 has sold well where it has been available, such as Canada and the UK. The Z10 will go on sale in March, and the Q10 in April.