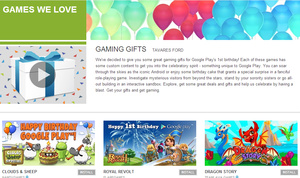 Exactly one year ago, Google merged its
Android
Market with a few of its other services to create the Google Play Store.
The Store offers hardware, ebooks, music, videos and of course apps and games.
In order to celebrate the birthday right, Google is offering discounts on books, video rentals and music, with a few apps and games highlighted, as well.
The anniversary part will extend to the rest of the week.
Check the deals here, daily:
Google Play Promotion