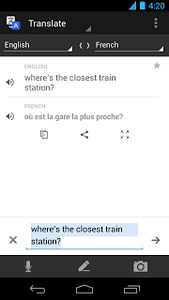 Google has announced today that it has added offline language support to its Google Translate app for
Android
.
The search giant says the new support is good for fifty languages ranging "from French and Spanish to Chinese and Arabic."
As a caveat,
the company says
the offline offerings are "less comprehensive" than if you were connected to the Internet but it should do fine if you need the occasional word.
To be able to use the service offline, you will need to download language packs from within the installed app.
The Google Translate app is free in the Google Play store.