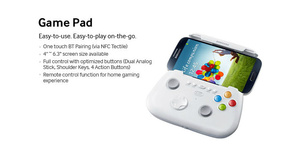 According to
Jon Jordan
,
Apple
made it clear during this year's
GDC
that they are ready to release their own dedicated game controller.
The reporter says the company used the conference to lets developers know about its plans and to ensure that their games will support the controller.
Additionally, the report says Apple booked a meeting room at the show under an assumed name, as to avoid media attention.
Apple is expected to announce the controller officially at its April event, in which they usually announce a new iPad.
Samsung
recently beat Apple to the punch, introducing their own Game Pad for smartphones. (Pictured)