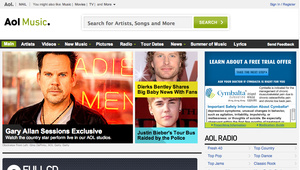 AOL has shut down its AOL Music division and fired the entire remaining staff.
AOL Music operated the music.aol.com homepage, the sites for The Boot and Tour
Tracker
, as well as Spinner.
Dan Reilly, the site's editor,
confirmed the entire staff was laid off
, although that number is still unknown.
After AOL acquired the Huffington Post for $315 million in 2011, it has been slowly consolidating and closing out divisions including Politics Daily, PopEater and StyleList, all of which are now under the Huffington Post Media
wing
.
AOL Music was once considered a "top online music destination," and Spinner was one of the Internet's first radio services, eventually offering daily downloads, exclusive interviews, album streams and live performances. While once popular, Spinner has fallen out of touch, with interviews and downloads from artists with small followings.
Well, we all just got laid off. AOL Music is finished.

-- Dan Reilly (@danreilly11) April 26, 2013