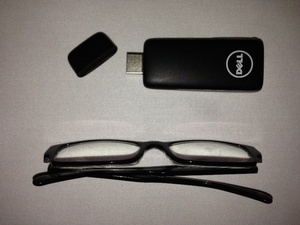 Dell's "Project Ophelia," which is an Android-based thumb PC,
will begin shipping in July
.
The device will sell for around $100, says the company.
Plugging into a display's
HDMI
port, the PC can run applications and access files that have been stored remotely. Additionally, it will have Wi-Fi and Bluetooth support.
Jeff McNaught, executive director of cloud client computing at
Dell
, says Ophelia will turn any display into a PC, a basic gaming console or a
set-top box
.
The device will have access to the Google Play Store, giving users access to 800,000 apps and movies, TV and music. Because
Android
has Netflix and Hulu Plus apps, users can stream films and TV, as well.
Additionally, Dell is working on a keyboard tech that will let users type more easily when Ophelia is docked to the screen.