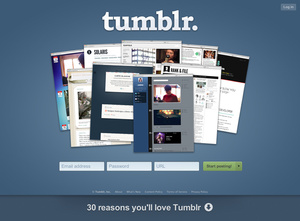 Earlier today, Yahoo announced a $1.1 billion deal for photo blogging site Tumblr.
CEO Marissa Mayer promises "not to screw it up,"
giving some hope to disenfranchised users who are scared that Yahoo will destroy the thriving community by adding ads.
Traditional display advertising has been blocked from Tumblr by founder/CEO David Karp so far.
Mayer noted that Tumblr will remain independently operated and Karp will remain the CEO. There will be no Yahoo branding, either.
The executive went as far as to compare the deal to some of the more successful tech "game changers" of the past, including Google's purchase of YouTube and eBay's purchase of PayPal. Of course, Yahoo still has to find a way to make the site worth the investment, to which Mayer says it will "monetize Tumblr in a way that is meaningful ... to the user experience."
Tumblr currently has 300 million unique monthly visitors.