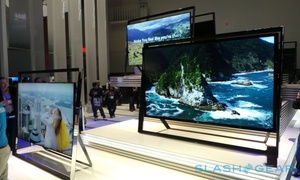 Samsung
has
announced
a new notebook today that will include the highest pixels-per-inch display of any book.
The new 13.3-inch QHD laptop will include a 3200 x 1800
resolution
with 276 pixels-per-inch (PPI).
By comparison, the Retina MacBook Pro has 227 PPI and the new Google
Chromebook
Pixel
has a 239 PPI.
Samsung is following the trend of extremely high-resolution computers. Last week,
Sharp
announced high PPI
IGZO
LCD panels for 11.6, 14 and 15.6-inch variants.
Toshiba
also just announced the 13.3 Kira
ultrabook
with a 2560 x 1440 display.
Furthermore, Samsung says the new QHD will provide 30 percent better power efficiency than existing LCD displays.