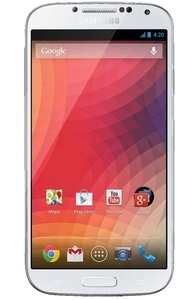 Google has confirmed that its Nexus version of the
Samsung Galaxy S4
will be U.S.-only.
The version comes with a vanilla version of
Android
4.2.x,
stripping Samsung's user interface
and their suite of premium applications.
Available on June 26th, the device is contract-free for $649 supporting T-Mobile and AT&T's
LTE
networks.
"We've worked closely with Samsung to create a special Samsung Galaxy S4 exclusively for Google Play,"
Google said at launch.
"It brings together cutting edge hardware from Samsung with Google's latest software and services -- including the user experience that ships with our popular Nexus devices."
The device is largely the same in terms of specs, except for running the stock Android OS, the lack of a provider lock and an unlocked bootloader. Google has also promised prompt Android updates in line with the
Nexus 4
.