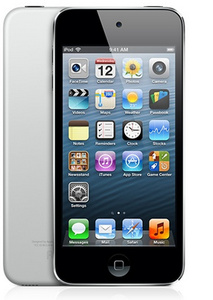 Apple
has quietly released a new 16GB iPod Touch model, a first for the latest generation of devices.
The company has discontinued the 4th generation model in favor of the new downsized 5th generation model, and all other 5th generation models remain on sale.
Apple's latest has a 4-inch
Retina Display
, a dual-core A5 processor, a front-facing
HD
camera for FaceTime and has the same aesthetic appearance except that Apple has dropped the rear camera.
Additionally, the company has lost the "loop" lanyard hook, in case that turns some customers off.
The new iPod is available for $229 and ships the next day in either black or
silver
. You can get it here:
Apple