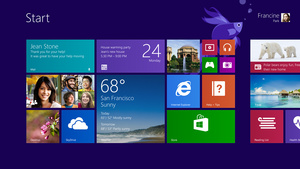 After days of leaks,
Microsoft
has
officially
unveiled Windows 8.1, the first major update for its unpopular Windows 8 operating system.
Says the software giant:
"Windows 8.1 will advance the bold vision set forward with Windows 8 to deliver the next generation of PCs, tablets, and a range of industry devices, and the experiences customers -- both consumers and businesses alike -- need and will just expect moving forward. It's Windows 8 even better.

Not only will Windows 8.1 respond to customer feedback, but it will add new features and functionality that advance the touch experience and mobile computing's potential. Windows 8.1 will deliver improvements and enhancements in key areas like personalization, search, the built-in apps, Windows Store experience, and cloud connectivity. Windows 8.1 will also include big bets for business in areas such as management and security."
The company unveiled a number of improvements, all of which should be welcomed by disgruntled Windows 8 users.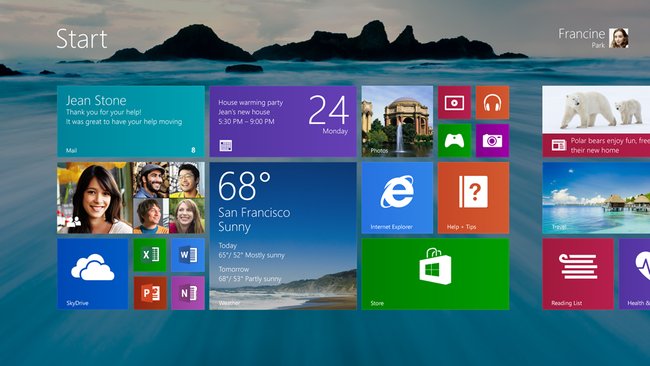 First, the company has added more colors and backgrounds for the Start screen, including a few with motion. A "live wallpaper" as
Android
fans know. Additionally, you can turn the lock screen into a slideshow of pictures from your local device or from the cloud. If you have a camera (most do), you can also take pictures right from the lock screen without needing to fully login. Additionally, on the "personalization" front, tile sizing has been updated with a new large and a new small tile, for better organization. Another good upgrade is the ability to select multiple apps at once, and tile will only move now if you press and hold.
Finally, if you install a new app, it is no longer added to the Start screen by Microsoft. You can choose to pin it if you like.

Search has been improved, Microsoft says, and the
"Search charm will provide global search results powered by Bing in a rich, simple-to-read, aggregated view of many content sources (the web, apps, files, SkyDrive, actions you can take) to provide the best "answer" for your query. We think this will really change the way you interact with the Web and with windows making it quicker and easier to get things done. It is the modern version of the command line!"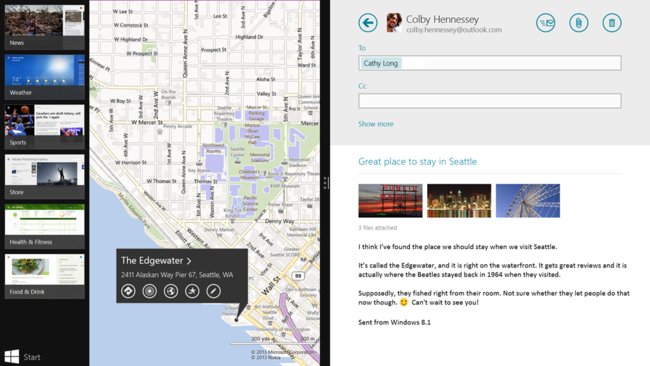 All built-in apps will be improved, says the company, and that includes the Photos app, Mail, SkyDrive and Camera and Music. More importantly, Microsoft says it is making improvements for using multiple apps (multitasking) at the same time:
"Windows 8.1 brings variable, continuous size of snap views. You will have more ways to see multiple apps on the screen at the same time. You can resize apps to any size you want, share the screen between two apps, or have up to three apps on each screen if you have multiple displays connected, you can have different Windows Store apps running on all the displays at the same time and the Start Screen can stay open on one monitor. This makes multi-tasking even easier. Also in Windows 8.1, you can have multiple windows of the same app snapped together – such as two Internet Explorer windows."
(Check attached screenshot)
As expected, the Windows Store will also be getting a makeover, showing more info and more detailed lists. App updates will install automatically in the background, as well.
While those updates were nice and all, the big ones Microsoft left for last. The Start button has been returned, allowing you to browse your programs right from the desktop rather than searching or pinning. Additionally,
"the updated PC Settings in Windows 8.1 gives you access to all your settings on your device without having to go to the Control Panel on the desktop. You can do things like change your display resolution, set your power options, see the make and model of your PC, change the product key, let you run Windows Update, and even join a domain – all from PC Settings. You can even manage SkyDrive from PC Settings as well and see how much available storage you have (and buy more if needed)."
More keyboards and mice will be supported, a huge improvement since Microsoft had assumed everyone would have a touch screen device by now. They don't. Finally, Internet Explorer 11 will come native, adding subtle improvements to the browser, which was once left for dead.
The update is set for release later this year, and will be a free upgrade for all Windows 8 users.