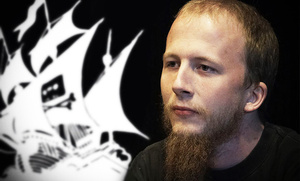 Gottfrid Svartholm Warg, co-founder of the infamous
torrent
tracker
The Pirate Bay, has been sentenced to prison time for his part in hacking the Swedish outsourcing firm Logica.
Warg had been accused of accessing computers illegally and making illegal money transfers.
The prosecution argued and proved that Warg managed to transfer 24,200 Danish crowns but attempted to transfer 683,000 euros.
"The hacking has been very extensive and technically advanced,"
added
the prosecution.
"The attacker has affected very sensitive systems."
Warg is already serving one year in prison for breaching copyright as owner of the torrent tracker, which remains active today.
The site is registered in Sint Maarten, a Dutch territory in the Caribbean.